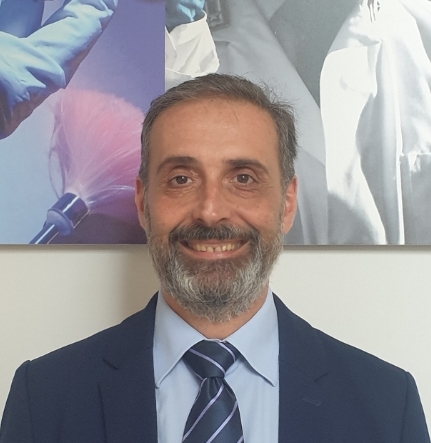 Mattei, Aldo, Lt. Colonel of Carabinieri Corps, PhD, M.Ch. Eng., is the laboratory deputy director of Carabinieri Scientific Investigation Service for South Italy and the head of the Latent Print Unit. In the last 26 years he was laboratory manager of different forensic disciplines (latent prints, footwears and tire-tracks, image processing and face recognition), providing court expertise. He authored and co-authored several articles for international journals and conferences. He is the 2nd Vice President of the IAI, serving in several committees and the President of the European Division. He is the Chairman of the ENFSI Fingerprint Working Group and the leader of the PTs/CEs Subcommittee.  He is a member of the ASB Friction Ridge Consensus Body and an international affiliate of the NIST-OSAC Friction Ridge Subcommittee.
Teresa Wu is Vice President of Innovation and Client Engagement for IDEMIA. Ms. Wu's career began with Morpho in 2001, then she served as Global Software Solutions Marketing Director for a Fortune 500 company until 2015. She rejoined one of the U.S. subsidiaries of IDEMIA in 2015 to serve as the Senior Director of Strategic Marketing and Government Relations. Until recently, she served as the Vice President of Product Management for IDEMIA Identity and Security business unit in North America. In the past 20 years, she has actively participated in and led various industry advocacy groups devoted to AFIS technology, facial recognition, public security and identity and biometric standards. Previously, she led the product management group in North America. Teresa oversaw 5 product portfolios levering technologies including cloud computing, biometrics hardware, digital identity, artificial intelligence, and video. In her current role, Ms. Wu serves as a cross functional team leader to drive client success activities within the business unit, bringing her extensive experience and domain expertise to focus on Innovation, Strategy, Corporate Social Responsibility, Intellectual Property, and Industry Advocacy.
In 2016, Ms. Wu was recognized for her contributions to the biometrics industry and was one of five recipients of the Women in Biometrics award. The Security Industry Association named Ms. Wu as one of the two recipients of the 2017 Statesman Award. Ms. Wu was recognized for her pivotal role in the association advocacy effort in supporting effective and appropriate use of biometric technology at the Federal and State levels. In 2020, with a group of IDEMIA executives, Ms. Wu has co-founded Women in IDEMIA Network (WIN) for the North America region which is the first company Employee Resource Group fostering women career development and diversity initiatives. Ms. Wu is a board member of FIDO Alliance, the Security Industry Association and a member of the leadership team of the Women in Identity organizations.
She obtained International Management bachelor's degrees at the Montpellier Sup de Co Group Business School in France and the Newcastle School of Management in the UK.  She received her MBA from Rawls College of Business, Texas Tech University and Master of International Business from the Montpellier Sup de Co Group Business School.
Zeno Geradts
Board Member
Zeno Geradts is a senior forensic scientist at the Netherlands Forensic Institute of the Ministry of Security and Justice at the Forensic Digital Biometrics Traces departement. He is an expert witness in the area of forensic (video) image processing and biometrics such as manipulation detection on deepfakes. Within the team Forensic Big Data Analysis he works in research on artificial intelligence on text, images and video. He works within the European Project ASGARD on Forensic big data analysis. He was President of the American Academy of Forensic Science 2019-2020 and chairman of the ENFSI Forensic IT Working group since 2018. From September 1st 2014, he is full professor on Forensic Data Science by special appointment at the University of Amsterdam for 1 day a week. He has been active in forensic science since 1991 and has received several awards including the Distinguished Forensic Scientist award from ENFSI in 2012.
Angelo Salici
Board Member, Website Editor
Angelo Salici holds a MSc degree in Electronic Engineering, a MSc degree in Homeland and International Security Sciences, a MSc degree in Statistical and Economic Science and a PhD degree in Advanced Technology for Information Engineering. Angelo has more than 16 years of experience in many forensic science disciplines: firearm, document examination, image/video processing, face recognition and digital forensic.  Currently he is member of the Board of Directors of the European Division of the International Association for Identification since its foundation in 2015, member of the ENFSI Firearms and GSR Working Group and he is involved in the EMPACT Firearms.
Marcel De Puit
Board Member, Treasurer
After a position at Pfizer (Sandwich, UK) and Specs Compound Handling (Delft, NL) I went to work for the Netherlands Forensic Institute (NFI) as the Research Lead for Fingerprint Research in 2007. From 2015 I have been a part-time Associate Professor at the Delft University of Technology (TUDelft).
My experience in research started at the University of Glasgow (Scotland, UK) with a R&D traineeship as a part his BSc-studies, under the supervision of prof. P. J. Kocienski. After finishing the BSc-degree I took up a PhD position at the University of Leeds, UK, again under the supervision of prof. Kocienski.
My research interest range from the development of new visualisation reagents to the chemical analysis of fingerprints. The research so far has resulted in some interesting insights in the development and the chemical profiling of latent fingerprints. The chemical profiling can in future be used to estimate the age of fingerprints and establish certain habits of the donor. At present a research project on the use of fingerprints for the evaluation of hypotheses at activity level is ongoing.
As founding father of the European Division of The International Association for Identification I am a member of the board of directors and currently the treasurer.
Anthony (Tony) Laird began his involvement with the forensic sciences in 1986 as a trainee fingerprint examiner with the South West Regional Fingerprint Bureau that was part of the Avon and Somerset Constabulary in Bristol, UK. On completing his training, he spent a short time at the Thames Valley Police fingerprint department in Oxford, before transferring to South Wales to help to set up a fingerprint department for the Gwent Constabulary. In 1992, Tony was offered a position as a fingerprint examiner with the National Bureau of Investigation, in Finland. During his time with the NBI he has been employed in various roles, including, the training of many fingerprint examiners as well as several research and development projects related to the forensic sciences. In addition to his official duties, Tony is a member of the board of directors of the European Division of the International Association for Identification.
Jo Morrissey
Board Member
Jo Morrissey is a Workforce Strategy Lead with the Forensic capability network. She is working with the forensic community from policing, academia and the wider sector across England and Wales.
Jo was previously and academic for 8 years and is still a visiting Associate Professor at Anglia Ruskin University.
She was a practitioner in crime scene, fingerprints and fire for 23 years prior to this.