The European Division received its charter from IAI on the 16th August 2014 under the authority of the IAI President and Chief Operating Officer. A clear need was identified for a representative, European based Division that would be capable of driving forward the agreed objectives of the parent body, as well as the refined objectives appertaining to Europe itself. Similar Divisions have been established in other countries, such as the US and have proved successful and there was a clear desire to emulate this success with a European Division.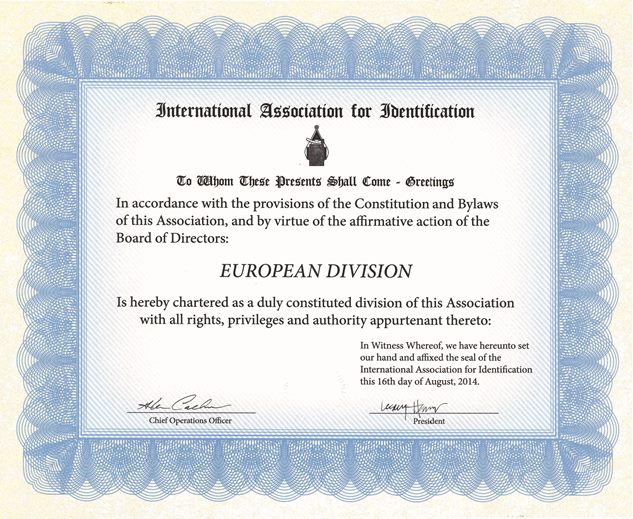 The European Division of the IAI is focused on
Providing training and education to members through seminars, conferences and summer schools;
Actively promoting research in the fields of forensics and biometrics;
Disseminating knowledge and information related to all the disciplines of the forensic sciences and biometrics;
Contributing with other established relevant professional organizations, following decisions of the European Council on forensics matters, the guidelines provided by European Commission Monopoly Status Forensic Organizations (e.g. ENFSI) and European Commission funded programs on forensic research cross fertilization (e.g. COST actions);
Encouraging the highest ethical standards in the collection, preservation, examination and evaluation of evidence;
Actively promoting networking between professionals, researchers, students and technical partners in all forensics and biometrics branches;
Contributing to spread relevant information on new technologies and technical solutions for practitioners and researchers.
Mattei, Aldo, Lt. Colonel of Carabinieri Corps, PhD, M.Ch. Eng., is the laboratory deputy director of Carabinieri Scientific Investigation Service for South Italy …read more
Zeno Geradts is a senior forensic scientist at the Netherlands Forensic Institute of the Ministry of Security and Justice at the Forensic Digital … read more
Angelo Salici holds a MSc degree in Electronic Engineering, a MSc degree in Homeland and International Security Sciences, a MSc degree in Statistical …read more
Anthony (Tony) Laird began his involvement with the forensic sciences in 1986 as a trainee fingerprint examiner with the South West Regional Fingerprint …read more
Teresa Wu is Vice President of Innovation and Client Engagement for IDEMIA. Ms. Wu's career began with Morpho in 2001, then she served as Global … read more
After a position at Pfizer (Sandwich, UK) and Specs Compound Handling (Delft, NL) I went to work for the Netherlands Forensic Institute (NFI) as the … read more
Jo Morrissey is a Workforce Strategy Lead with the Forensic capability network. She is working with the forensic community…read more